Performance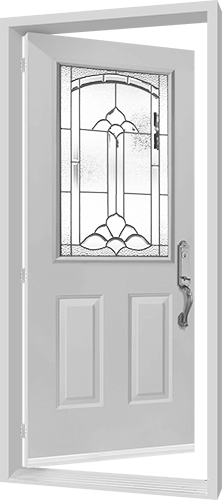 Vinyl-Professionals ultimate goal is to add beauty and value to your home. We make our doors to the highest standards and warrant them to perform over time. When you buy our door, you are buying piece of mind. We continually create new and innovative doors that are sure to bring beauty and value to your home for years to come.Vinyl-Professionals are designed and constructed to very exacting specifications. Steel is engineered for lasting durability and reliable performance. This performance translates into extra security, extra longevity and extra home owner satisfaction. Increasing security is one most important consideration for fitting steel doors, the greatest weakness of the majority of wooden and plastic doors is the frame, in most cases they can usually be easily kicked or forced open with a crow bar breaking the frame to gain entry. Steel plates can be bolted to the outside of wooden doors but they only offer a limited amount of additional security and most doors are not designed to take the extra weight causing  problems like damage to the hinges.
Steel doors can be expected to give a much longer service life even in hostile or high usage applications than the other alternatives, it is important that they are galvanized or rusting can be a problem especially for outside applications, corrosion is not only unsightly but in time will reduce the integrity of the door and frame. There are environmental benefits of fitting steel doors not only do they have a longer life but unlike wooden or plastic doors they do not deplete valuable resources and at the end of there life they can be recycled, thermal efficiency can be improved by using  filling and good quality door seals.
Steel Doors do not swell or warp on damp weather neither do they rot or need ongoing maintenance to retain there appearance and integrity. Fire resistance, all steel doors because of the material they are fabricated from offer a good level resistance to fire. Certified fire rated doors are available when a greater level of protection is required, most certified doors offer at least 4 hours protection.
Energy Efficiency
As our planet's resources continue to be taxed, scientists, inventors, manufacturers and whole countries are searching for new sources of energy. You may not be able to discover a new energy source, but you can conserve this precious commodity, and our doors can help. Vinyl-Pros is constantly implementing new ideas, new materials, and new designs to help our homeowners cut down on energy costs. Our doors are designed with energy efficiency in mind. Committed to meeting the highest standards for energy and efficiency, Masonite is working with the government and its ENERGY STAR program. When they are installed correctly, Masonite doors can meet the ENERGY STAR requirements by region.Energy efficient choices can save families about a third on their energy bill.¹ The best part is now you don't have to sacrifice features, style or comfort. ENERGY STAR helps you make the energy efficient choice.
Sound Transmission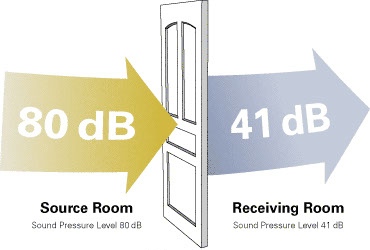 Managing and containing sound transmission is becoming more popular in both residential and commercial construction. Doors can be an important component when attempting to reduce the noise that is either entering or exiting a room or building. STC (Sound Transmission Class) are measurements of a door's ability to reduce the transmission of airborne noise. Higher STC values represent better noise reduction.